When it comes to healthcare and medical assistance, the nurses are one of the professionals to rely on. They have the expertise and experience when it comes to hospital attending and caring for sick people in a hospital. Nurses are on their feet all day and need a good pair of shoes to help them through a long shift. 
So, Can Nurses wear Crocs?
Nurses can wear Crocs; in fact, the Crocs company has a line of shoes specifically designed for nurses and other medical professionals. The Rx Crocs Line does not have holes on top and they include Croc Lock slip-resistant tread, enhanced arch support, and footbed and are easily washed with soap and water.
Here are is a list of Crocs styles made specifically for Medical Professionals including Nurses and Surgeons:
It's important to note that some National Health Authorities have stated that Crocs with holes are not allowed to be worn by medical professionals including nurses.  The issue was the with the holes on top of the Iconic Crocs, medical professionals could be "jabbed" by needles if they were accidentally dropped.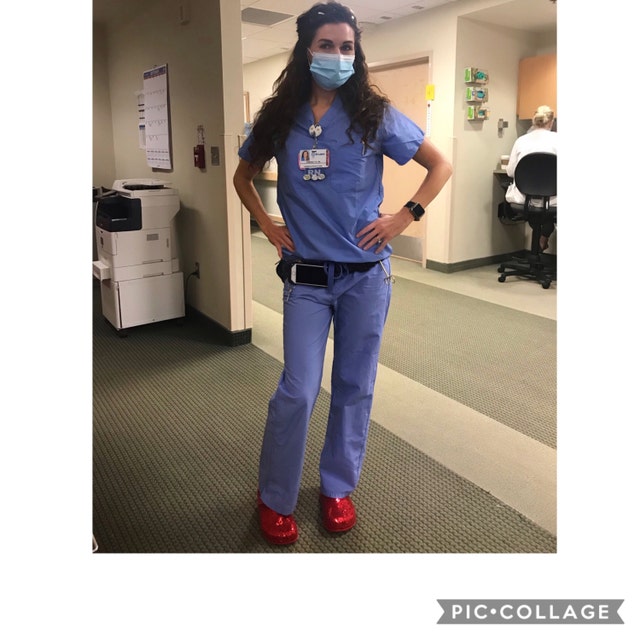 Click here, to view the Red Starlight Sequin Crocs!
The Crocs listed above, don't have holes. These Crocs are listed as approved shoes for medical professionals in most regions around the world.
Also of note, in 2020, during the beginning of the COVID-19 breakout, Crocs donated over 860,000 pairs of Crocs for medical professionals working the front line battling the virus.
Let's take a look at the reasons why nurses and other Medical professionals wear Crocs.  
Crocs Are Easy to Clean
With all the holes in Crocs footwear made from Croslite, cleaning it only takes some wipe of a wet cloth piece. If there is more dirt, then a diligent and soft scrub will be enough already. Also, it gets dry quickly, thanks to Croslite as its primary raw material.
Moreover, when nurses' shoes get stained, such as by blood, the stain is hard to remove. This is where disadvantages come into the scene. Stains of blood on the footwear can make the nurses look unprofessional, as well as act as a triggering psychological factor to the patients and make them think negatively about their health.
Crocs patented closed-cell Croslite material is non-porous meaning it's tough to get stained and easy to clean with just soap and water!
Crocs are Comfortable
Another reason why nurses can and must wear this footwear is that it's comfortable.  The designs of this footwear ensemble have rigid counterintuitive points.
This then ensures that the Crocs and clogs uphold comfort in every use. For the boots and trainers, it upholds malleability.
This means that nurses will likely buy and change their footwear for an extended time span. It may feel a bit comfortable in the store, yet after wearing it on a 12-hour long shift, the pain will become unbearable.
Nurses typically want to choose a more comfortable shoe over malleability, which is provided by Crocs. Since this footwear is made from Croslite, which is a high-quality "rubber-like" resin, comfort, as well as a rigid frame, are guaranteed. This then made Crocs the nurses' favorite till now.
Crocs Provide Support
Compared to boots or trainers, Crocs or clogs have a sturdier design. Being a nurse is not an easy job as it requires the ability to carry and support ill patients when they need assistance.
Given that, having a strong build and body support is needed by nurses. One of the pieces of equipment that helps them with that is a robust footwear piece that they found in Crocs.
The footwear provides them with strong support to the feet, ankles, as well as protects the back from any strain. Aside from that, Crocs also helps keep their legs and back strong to avoid suffering from musculoskeletal injuries.
Non-Absorbent Material
Working in a hospital is a life-and-death situation due to being exposed to different fungus, bacteria, and diseases that can harm health. These are the daily enemies of the mighty nurses who do not think of themselves anymore to provide high-quality healthcare to the patients.
Good thing, Crocs helps the nurses to be safe from these dangers. Crocs, compared to other closed-off shoes like trainers (running shoes) that are made with a porous material, keep nurses' feet safe from spills and bacterial.
Durability
Compared to other brands of footwear, Crocs upholds durability. With that, the footwear can last longer and prevents the nurses from buying another one almost all the time. With its durability, the color and shape are retained well, allowing the nurses to save more.
Another thing, Crocs may have an expensive upfront cost, yet the durability is guaranteed. It is both economical and environmental as it can last for years.
No Laces
Laces are known for shoes as it provides additional tightness and grip to not let the shoes fall off. For Crocs, laces are only for the inconvenience. Given that, the models of Crocs footwear are not produced with a lace as they believed it to be less convenient.
Guess what? The nurses loved it as it made it easier for them to rush in times of emergency in the hospital. It allowed them to run as fast as they can without worrying about the loose lace that can make them stumble.
Protects the Feet
Nurses are exposed not only to different diseases but also to accidents in the hospital. These accidents include getting stomped by hospital equipment, injuries due to caring for the patients, and so many more. Good thing, Crocs knew its purpose at the very first.
With its sturdy cover, the nurses' feet are well-protected from any means of accident.
Easy to Slip In and Out
Next, Crocs became the nurses' favorite as it is easy to slip in and out. Nurses and other hospital attendants are always in a rush as they take care of hundreds of patients all at once.
In times of severe emergencies, wearing shoes or boots are less convenient and time-consuming. However, with Crocs, they can easily wear comfortable footwear with ease.
Stress Reliever
Being a nurse means that there is a huge responsibility, especially because of their field in the medicine and wellness of people. They need to give their very best all the time to guarantee the patients with the best healthcare.
With half a day of wearing lab suits, masks, shields, gloves, and other hospital uniforms, along with the hospital concerns, stress is not possible for them to avoid. In fact, a lot of studies have shown that nurses are one of the most stressed professionals, plus their sleepless daily life.
This made them look for valuable equipment to help them relieve stress. This had to lead them to Crocs. With the cushion-like comfort that it provides, nurses found a way to relieve their stress. Aside from that, Crocs have their clogs in a choice of colorful designs.
Slip Resistant
Hospitals have wet sections such as the bathrooms, laboratory, and others else. Given that, slipping isn't impossible. Good thing, they have found Crocs, which is slip-resistant. With Crocs, nurses can feel much safer when roaming around the hospital as they check their patients.
These reasons are enough already to testify that Crocs footwear is allowed to be used by nurses. But on top of these, it will always depend on the hospital whether it'll allow the use of this brand or not as part of the nurses' uniform. The decision always relies on hospital leaders. 
Crocs and Healthcare Related Articles
Crocs Uses & Related Articles