Crocs have become one of the most popular shoes for adults and kids alike.  The Crocs company have expanded from their originally classic clog style shoe to include several different styles. 
If you love the Crocs your wear, why not wear them year-round!  But that begs the question: Can you wear Crocs in the winter?
Classic Crocs Clogs can be worn in the winter, but, for those really cold days, it's better to opt for Crocs winter boots.  Crocs boots will keep your feet warm and dry in all winter conditions.
Before the winter months come, you're likely getting ready to pull out your sweaters and sweatshirts.  Pack away some of your favorite summer T's. It's also time to put away the flip flops and pull out your winter boots.
Should you put away your classic Crocs?  Personally, I wear my Crocs in the winter if I'm outside for a short time.  Also, it's very weather dependent.  If it's snowing, I'm not wearing my classic Crocs.  If it's too cold, I'm going to wear shoes or boots.  If it's raining, I'm going to wear boots or different shoes.
In the winter, I typically wear socks with my Crocs and I don't want my socks getting wet when I'm out in the cold…  My classic Crocs have holes on the top.  However, there are other types of Crocs that don't have holes on top.  Like the Men's & Women's Specialist Clog, which is designed for medical professionals.  (read about the best Crocs for Nurses here.)
Crocs also offer Boots. There are several boot options that you can chose from that will keep your feet nice and warm and dry, even on those snowy, blizzarding days. Read this article I wrote called: "Do Crocs make boots?"
Here are some images of Crocs boots from Amazon:
Crocs Winter Shoe Choices
As you can see from the images above, Crocs has a few different styles of winter boots for kids, Men and Women.  All winter boots are made to Crocs high standards.  I personally like the look of the Luxe style, which is short for "luxurious".  The fur lining and leather are a nice combination.
Click here to find the Men's AllCast II Luxe Snow Boot on Amazon.
Click here to find the Women's All Cast II Snow Boot on Amazon.
Another winter boot option for Men and Women is the AllCast II Snow Boot. These are much like the Luxe style, however these boots have a faux-shearling collar and synthetic nubuck uppers.  Their gusseted construction keeps your feet warm and dry.
Click here to find the Men's AllCast II Snow Boot on Amazon.
Click here to find the Women's AllCast II Snow Boot on Amazon.
Another Choice for Women only is the Crocband Winter Boot.  This boot has a warm liner and synthetic nylon uppers to keep your feet warm and dry in the rain and show.
Click here for the Women's Crocband Winter Boots on Amazon.
Let's not forget about the kids.  Crocs makes a couple of styles for kids.  The kids winter boot collection have a warm lining and water resistant nylon upper.  These are designed after the woman's Crocband winter boots, except the kids get more colorful options!
Click here for the Kid's Crocband Winter boots on Amazon.
Another choice for winter Crocs could be the Classic Lined Neo Puff Realtree Edge Boot.  I love the look of these boots and I'm going to get a pair before the winter begins.  These are camo style with the Realtree Edge camo pattern.  The boots are lined with a nylon funnel neck.  They are lightweight and keep your feet warm and dry in those cold blustery days.
Click here for the Classic Lined Neo Puff Realtree Edge Boot on Amazon.
If you are still wondering if you can wear a pair of Crocs in the winter months, you are in the right place. In this post, we are going to provide you with some reasons why a pair of Crocs is the perfect footwear to wear during the cold breeze of air in the winter. So, if you want to know more about it, then keep on reading and enjoy!
Crocs Are Low Maintenance
Crocs are popular because it does not require high maintenance. This means that you can clean them with ease and convenience.
This is beneficial during the winter months, considering the dry air that could make your skin dry out that in a snap. The dead skin cells that stock in your feet are the main source of bacteria. This is the reason why your feet get smelly during winter.
This footwear is easy to maintain because of its convenient shape. This ensures that your feet and footwear will not store any dry and dead skin flakes.
Crocs Are Doctor Recommended
Crocs footwear is developed to use for boating. This footwear gives your toes enough room to move. Aside from that, it also features a secure rear strap and supportive and deep heel cup. Considering their loose-fitting, your feet won't get pressure.
It also prevents toe rubbing spots. Considering the stable footbed of Crocs, you don't have to worry about excessive staggering and pronation. Both pronation and staggering are the reason behind pains in your low back, knees, and ankle.
There is no doubt that Crocs footwear provides more protection and comfort compared to other shoes out there. The brand also gains an approval seal from the American Podiatric Medical Association (APMA). This means that the said brand of footwear is recommended to have better ankle and foot care.
Crocs Are Flexible
Whether you are wearing a casual dress, a denim jacket, or a long skirt, you can easily pair it with this fuzzy-colored pair of Crocs footwear. No matter your taste or style, these shoes could help you achieve a funky look. Crocs is a footwear brand that offers more than 50 designs that you can choose from. This is the perfect footwear for all ages, whether you are a kid, man, or woman.
Sole Therapy
Crocs are slip-resistant footwear. It is one of the shoes that offer enough protection and comfort in any season of the year, especially the winter. It is made from soft material. Aside from that, the footwear is both washable and bacteria-resistant. A pair of Crocs footwear is designed to fit the shape of your foot and toes perfectly.
Crocs come with non-slip soles. It makes the said footwear perfect for those individuals who wear shoes throughout the day. Aside from everyday use, this pair of footwear is also designed for indoors, swimming, and boating, wherein the floor is slippery.
One of the good things about this is that Crocs do not have frills. Not only that, but it is also eco-friendly and does not require high and frequent maintenance. This is the perfect footwear to wear every single day, wherever you go.
Happy Feet
The winter season can make our feet sweaty and cold. Excessive sweating of feet is the result of temperature change. This occurs due to the autonomic regulation process. This process pushes your body to work every single minute. This helps the skin in the feet to withstand any temperature change.
Because of excessive sweating, the skin on your feet, palm, and extremities become cold. This could lead to bacteria production, which can lead to foot odor. You may consider using Crocs to prevent this from happening. One of the good things about Crocs is that they are odor resistant.
The holes in this footwear make it more breathable. These holes work in letting the water and air pass through easily. Materials used for making this footwear have antibacterial properties that protect your feet from bad odor. That's why it is perfect for those that are prone to infection, especially people with poor circulation or wounds.
Conclusion
Crocs are the perfect footwear to wear throughout the year. It perfectly fits in your feet and can withstand any weather. Originally, this pair of high-quality shoes are intended for boating. It helps the fishermen to soak their feet into the water without worrying about possible consequences.
This is the main reason a lot of individuals around the world are using this footwear during the summer season when they visit the pool and the beach. It is also perfect to wear through rain showers. The good thing about this footwear is that it also works for all ages during the winter and fall season.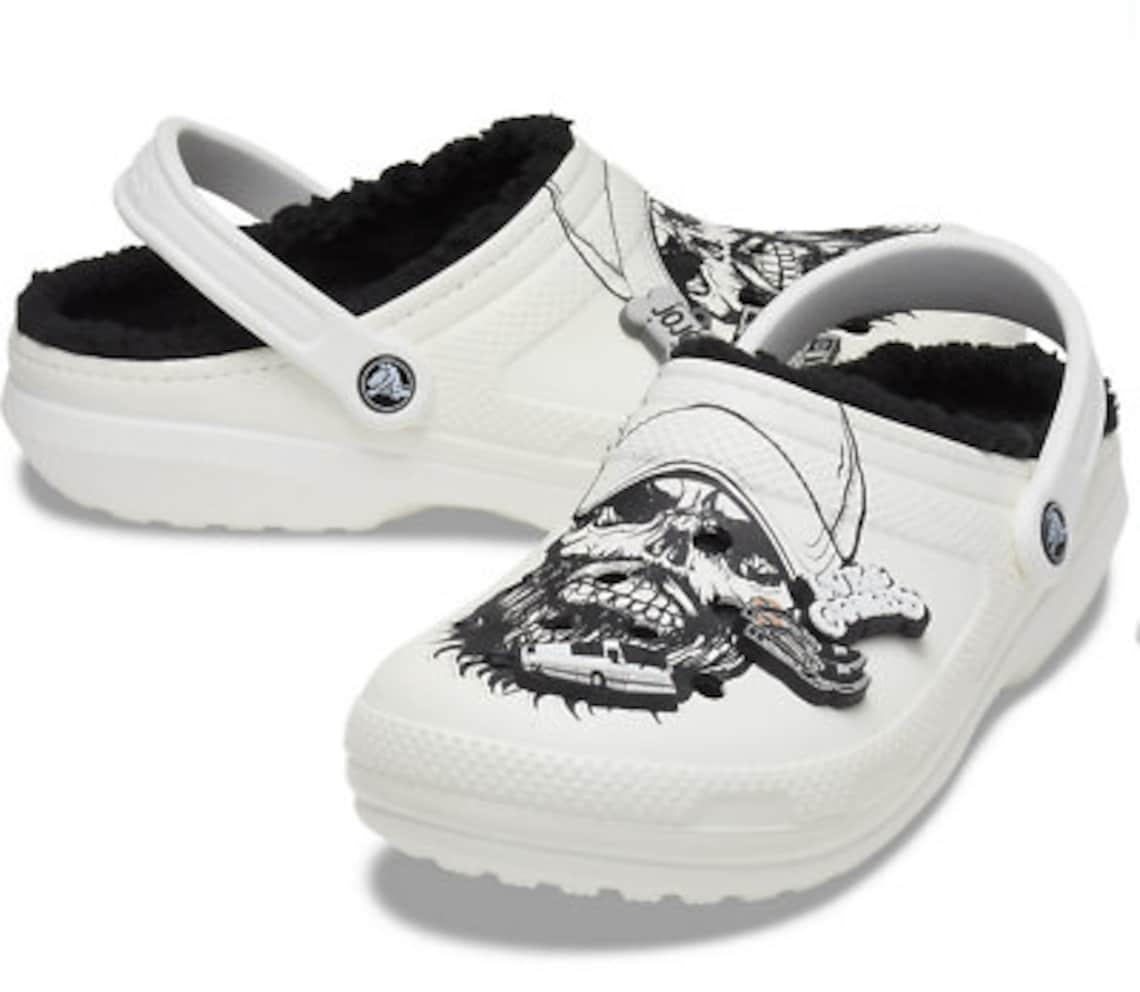 Crocs footwear is known to handle both snow and water. It keeps your foot dry and warm even during the cold months. So the answer to the question, "Can you wear Crocs in the winter?" is yes.
So, if you are looking for a perfect pair of shoes that you can wear throughout the year, then Crocs are perfect for you. Aside from keeping your feet dry and warm, it also protects your feet skin from odor-causing bacteria. You don't have to worry about dryness and cracking skin when you have Crocs footwear. Bonus: It looks perfect in any fashion style.
Related Articles