Have you been thinking about buying a pair of Crocs and wondered if those weird-looking clogs are comfortable?  Well, you've come to the right place.  There's nothing worse than spending $50 or more on a pair of shoes that just aren't nice to wear.  So, are Crocs comfortable?
Crocs are very comfortable shoes. Originally designed for relief for people with plantar pain and achy feet.  The Croslite material will soften from your own body heat and mold to your foot while remaining supportive and secure on your feet.   
Crocs comes in several styles. Three of these styles are specifically designed for people who stand and work on their feet for 8-to-10-hour shifts.  These crocs have arch support and a slip-resistant sole.
Here are a few of the crocs that specifically have enhanced arch support.
If you don't need the enhanced arch support, but want a shoe with a slip-resistant sole, then you could choose from these: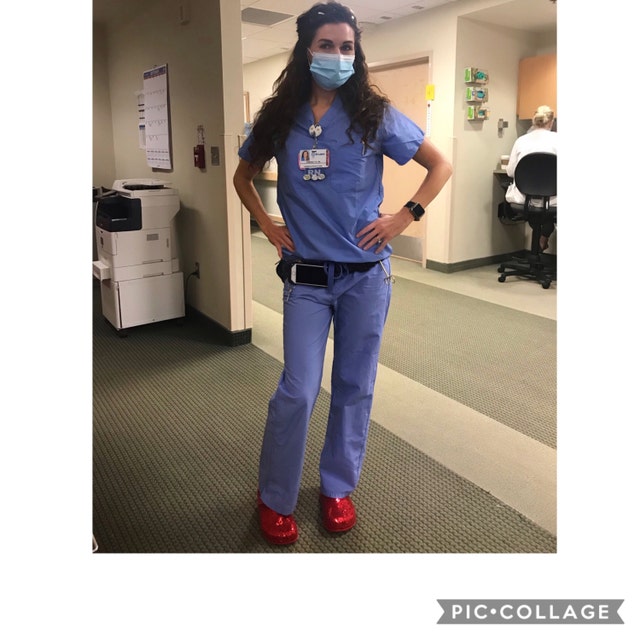 Click here, to find the Red Starlight Sequin Crocs!
How Comfortable Crocs Are? 
If the nature of your job requires all-day standing, comfortable footwear should be your number one choice, and your long wait is finally over with crocs. 
Some would think that crocs have a hard texture. But the brand is comfy, soft, and perfect for those who have delicate skin, saying goodbye to ankle or heel pain. 
Crocs molds to your feet. They have wide and enough space inside, supporting the size of your feet. But they are not too wide. They are designed according to the client's specific needs. 
Another thing that makes crocs comfortable is that they are lightweight and easy to lift. Whether you have to submit important documents to another department in your company or need to assist colleagues, crocs can help keep your feet free from blisters, sprains, and other serious injuries. 
Croslite Material
Crocs are popular because of their Croslite. As the company's proprietary and patented technology, Croslite levels up crocs' ability to keep users' feet properly ventilated and well-massaged despite a stressful and busy day.
If your profession requires you to roam around the office for hours, crocs can prevent the risks of heel pain and other foot problems. 
APMA Certified
Certified by the American Podiatric Medical Association, crocs are considered medical footwear, making them ideal for patients who suffer from any foot health-related problems. But before you use crocs for medical reasons, consult podiatrists and other experienced professionals. 
Crocs are also breathable. Unlike the modern and high-end designs or styles from the company, crocs have their signature whack-a-mole surface, giving the footwear a distinct look. During summer, one of the concerns of consumers with their shoes is foot sweat because of the extreme heat.
Crocs, on the contrary, would take your comfort and experience to the next level. When worn properly, they are designed to allow your feet to breathe. During a long rainy season, draining water from crocs won't be a hassle anymore.
It's a common problem for users to slip off their feet while using a wide pair of shoes. Crocs are different. They are not only roomy but also secure. That means you can avoid the risks of slipping off your feet when walking or running. They are extremely convenient, indeed. 
Crocs are also easy to take on and off. In other types of shoes, it is important to loosen the lace. In crocs, all you have to do is to slip your feet on and off. That's it! There's nothing troublesome when using this type of footwear. 
How Can A Comfortable Footwear Like Crocs Level Up Your Experience? 
There are multiple varieties of footwear to choose from, and the style can be deceiving. If you have done some research online, you're quite tempted to invest in footwear that's appealing and stunning. 
But how about the comfort level of your options? Stylish shoes won't be enough when they are not comfy and of good quality. Which is better between gorgeous and comfortable brands? No doubt, the latter. 
While crocs are not as stylish as the competitors, they are of high quality and comfortable. Here's how crocs can change your life and level up your experience: 
They May Help Prevent Foot Pain
Crocs are made with breathable and quality materials that provide extra comfort when you're walking, running, and working. For that reason, podiatrists recommend crocs for individuals suffering from plantar paid, achy feet, bunions, and other severe foot injuries.
But wearing them for hours without intervals can increase the risks of toe deformities, tendonitis, and even calluses. So, avoid wearing crocs all day long. Give your feet enough time to relax. 
They May Improve Your Posture
Uncomfortable footwear prevents us from walking properly. On the contrary, Crocs may allow us to maintain our natural posture without posing any health danger to our muscles and joints.
To enjoy the best result, it is critical to practice walking upright and incorporate exercises recommended by medical professionals into your daily routine. 
They May Avoid Long-Term Damage
Any tight footwear can lead to corns, joint ailments, plantar fasciitis, spurs, and other deformations. The symptoms are not visible right away. Small damages take place little by little. That's why most patients get treated when their condition is at an advanced stage.
Sometimes, people believe their foot problems will fade away and improve after some time. But what's worse is that they recur and be uncomfortable. They can also affect the quality of your life when left untreated for days. While taking pain relievers and other doctor's prescribed medications is enough, changing your footwear is an incredible idea.
Instead of wearing something tight, consider crocs. They're wide and perfect for those with big feet. Whether you're diagnosed with plantar fasciitis or other joint ailments, consult a licensed podiatrist before using crocs to avoid further complications.
They May Improve Circulation 
When you wear extremely uncomfortable pairs of shoes, your feet may get hurt and start to swell, causing poor blood circulation. To improve body circulation and prevent the appearance of edema, using something of good quality and comfy like crocs may help.
They have wide interior space that can accommodate and support the size of your feet without causing any serious injury. They also have a smooth texture that you would greatly enjoy. Plus, they are easy to carry and breathable, thanks to their Croslite. 
There's a wide variety of footwear to pick from nowadays. But not all are comfortable to use. Crocs are a smart and lasting investment to take into account. Although they cannot compete with other brands in terms of design and style, they are trusted for their breathability and quality.
Recognized as a complete package for all, crocs are user-friendly, without the need of tightening or loosening your lace. They won't also cost you an arm or a leg. They are competitively priced, helping you acquire huge savings in the long run.
Instead of investing in footwear that's fashionable, comfortable products like crocs are better than you've expected. So, what's your thought? Feel free to do further research for more details!
Related Articles