Healthcare professionals can endure marathon days since most of their time is spent walking, standing, and sometimes even dashing to address emergency situations. Their job's high demands can take a toll on their body, which includes the knees, feet, and back.
Crocs have created a specific line of shoes designed specifically for medical professionals and health care workers. The Crocs Rx line.
The best Crocs for healthcare workers are the Crocs Rx line which includes Neria Pro II clogs, the Specialist II Clog, Crocs On-The-Clock Work Slip-On shoes. Healthcare workers can also wear the Bistro line of Crocs including the Bistro Pro LiteRide clog, the Bistro Graphic clog, and the Bistro Clog or the Crocs At Work Flat.
Fortunately, Crocs have developed high-quality shoes that offer exceptional cushioning to help to alleviate some of the physical stress associated with standing and walking all day.
Here are a few of the crocs that specifically have enhanced arch support.
If you don't need the enhanced arch support, but want a shoe with a slip-resistant sole, then you could choose from these:
These quality Crocs shoes can help healthcare workers perform their work, duties, and responsibilities up to their maximum extent. The best Crocs shoes for nurses, physicians, medical representatives, and other healthcare workers are needed to help them perform exceptional services in their workplace.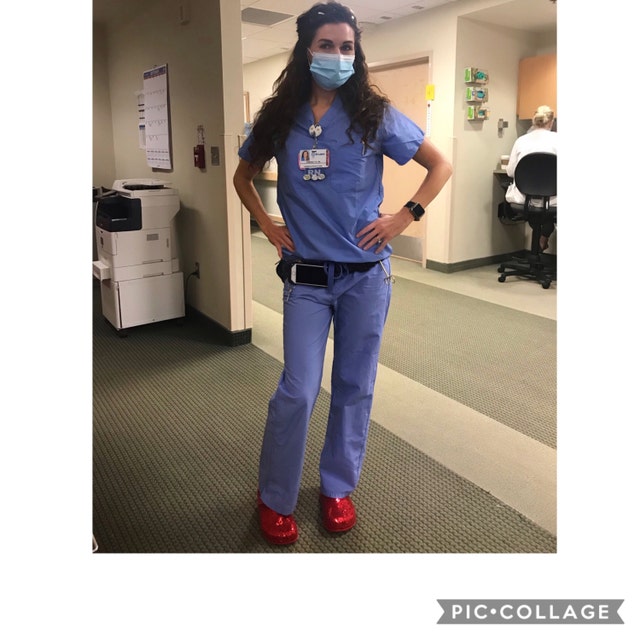 If you are a healthcare worker who works in a clinic or hospital, or even in an office, then let's take a look at the different options that might be best for you.
Crocs Women's Neria Pro II Work Clogs
The Neria Pro II Clogs are specifically designed for women healthcare professionals who work for a couple of hours.
Since they stand, walk, and even do sprinting for some emergency instances, these relaxed-fit Crocs shoes provide your feet with the room to breathe.
Aside from that, these feature enhanced arch support that can help carry you throughout the day. These shoes also offer patented Crocs Lock tread for slip-resistant grip and a full molded design that is easy to be cleaned by just using water and soap.
Crocs On The Clock Slip-On For Medical Professionals
The On The Clock Work Medical Professional Crocs was designed for professionals such as nurses, surgeons, medical professionals, and baristas.
Essentially, anyone who works long hours and spends a lot of time on their feet. The Crocs on the clock slip-on are excellent work shoes
This pair of crocs tries to maintain a level of professionalism by having just two basic colors (white and black). They are slip-resistant and have enclosed toes and heel which protects the feet from spills which are unavoidable when working as a nurse in a hospital.
It has a Croslite foam and well-cushioned footbeds which offer extreme comfort even if worn for long periods.
The Specialist II Clog
Another type of Crocs shoes that is certifiably comfortable at work is the Specialist II Clog. This Clog, unlike the Neria Pro II, is a great option for men or women.
Some of the best features about this product include a thicker metatarsal area, contoured footbed, enhanced arch support, which adds comfort when you are doing your tasks, enclosed heel and toe that meets the standards at your workplace, and relaxed fit custom, which can securely fit on your feet.
The manufacturers designed these features for all users, especially those healthcare workers who render services for how many hours at work.
Since most of the healthcare professionals stand on their feet, a pair of Crocs shoes must be used to alleviate suffering from strain or pain on their feet. Thus, this pair of Crocs shoes can help them to perform well on their tasks and responsibilities.
You can opt to purchase these Crocs online if you think that these are suitable for you. Besides, there are several available colors including plain black, blue and white, which will be good enough for your tastes and preferences.
Women's Crocs at Work Flat
One of the most prominent and in-demand types of Crocs shoes that you can find in the marketplace is the Women's Crocs at Work Flat. Many healthcare professionals tend to purchase this product since this gives great comfort when they are working with their tasks.
Aside from that, it can only be bought at an affordable rate. So, with the high-quality and reasonable rate for this type of Crocs shoes, rest assured that your money is worth an investment.
Just like the other types and models of Crocs, this Crocs at Work Flat offers an enclosed heel and toe that meets the standards of your workplace. It also offers enhanced arch support that enhances support and protection on your ankle and feet.
Thus, it will help you be comfortable at work since it can help you alleviate pain or strain on your feet.
These types of shoes are just some of the Crocs collections that you can use at work. You can still know and explore some more different kinds of Crocs in the market since the manufacturers tend to produce innovative designs and styles of Crocs that would be suitable for you.
Crocs Bistro LiteRide Clogs
You can be comfortable with this type of Crocs Bistro LiteRide clogs. The good thing about this kind of shoe is that it can be purchased at a reasonable price.
Many healthcare professionals tend to buy this Crocs because it features LiteRide cell foam, 40% softer and 25% lighter than the Crocs Crosslite foam. There's also a soft and flexible Matlite designed to have a movement with you throughout the day.
Women's Mercy Work Clog
Another option for female healthcare workers is the Mercy Work Clog.
Like the Specialist II Pro clog, these have enhanced arch support and footbed, Crocs Lock slip-resistant tread. Easy to clean with soap and water, these clogs are designed for laboratories, schools and medical facilities, and more.
The lightweight material that all Crocs shoes are known for, Croslite, make these shoes very lightweight and comfortable when you are on your feet all day.
Demand for Crocs by healthcare professionals has increased exponentially. That's because of the comfort and durability of these shoes.
These provide Croslite foam, which adapts on your feet, providing customized comfort. These clogs are made up of odor-resistant materials; so, rest assured that your feet will not produce any bad odor. Another good thing about these clogs is that they can be cleaned without difficulty since you just need to use water and soap.
Where to Buy the Best Crocs for Healthcare Workers
You can certainly purchase Crocs at a local Crocs retailer, through Crocs.com or through Amazon. I've found that Amazon is very convenient, offers some colors that I couldn't find at my local store.
Crocs have expanded their product line up dramatically and now offer more than just the classic clogs look. You can choose slides, flip flops, and more (although, I wouldn't choose these for work!).
Crocs and Healthcare Related Articles
Articles about Crocs and their uses