Crocs are of good quality footwear for both men and women. They are comfortable, breathable, waterproof, and may have some therapeutic benefits. 
But after some time, they might start looking a little worn. It would be really cool to bring back some life to your old Crocs by changing the color. So, Can Crocs be dyed?
You can modify the color of your Crocs, but Crocs can not be dyed. The patented closed-cell resin foam called Croslite does not effectively accept dyes. To "dye" your Crocs, the best method would be to hydro-dip your Crocs. 
One of the colors that's trending for people wearing Crocs is the Tie-Dye Collection. There are more styles of Crocs available in Tie-Dye than ever before. If you have a pair of Crocs in a solid color, you might want to change the look.
Let's see what you can to do modify the color of your Crocs!
Why Should You Dye Crocs? 
Make Your Crocs Look New Again
One of the reasons people dye their Crocs is to make the footwear new. If you don't have cash on hand and your favorite shoes are starting to look dull and worn, then adding a splash of color could be a practical alternative.
Have A Customized Pair Of Crocs
Some Crocs purchasers will modify their Crocs with Jibbitz (read more about Jibbitz here), some add sequin, (like the Red Starlight Crocs, check them out here). Others will paint (dye) their Crocs as soon as they receive a new pair.
Here is an image of the Red Starlight Crocs, below, and there are so many other ideas.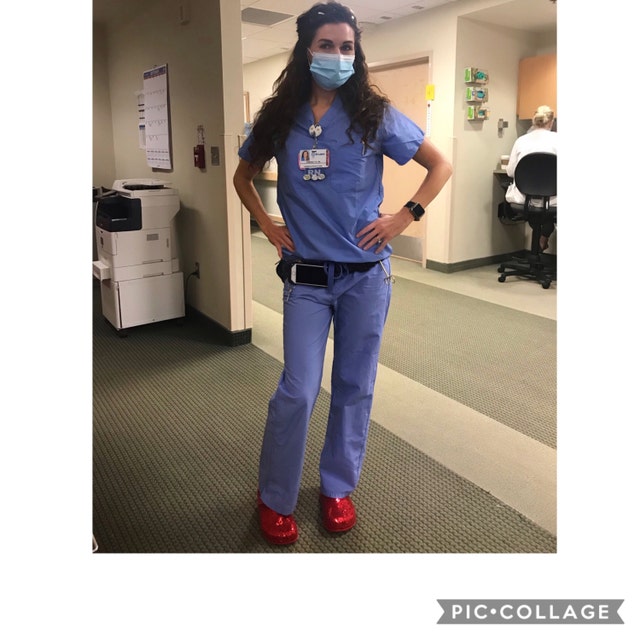 Here is an image of the Bride's Crocs!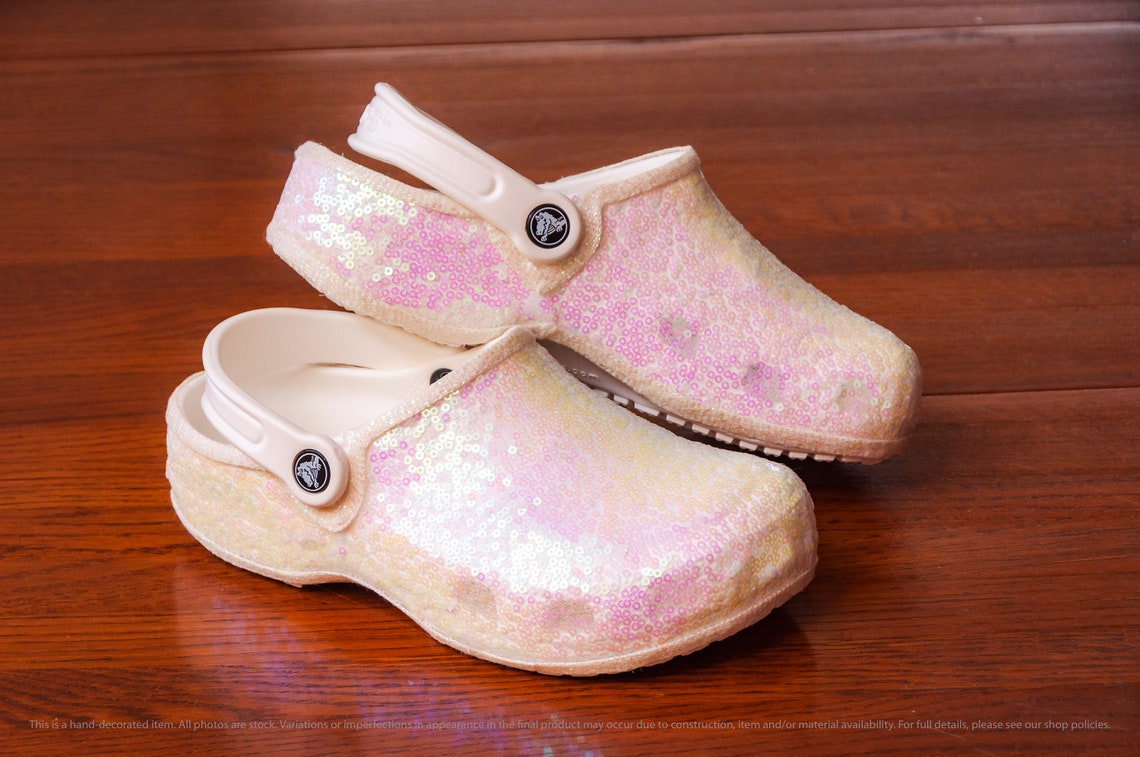 To Be Cost-Effective and Environmentally Sustainable
Crocs are competitively priced, so you can buy a pair whenever the need arises. However, if you don't have to buy a new pair and there is an option to make your old pair "new" again, then why not!
Dying a pair of old Crocs can be a more affordable and sustainable option! You do not only cut costs but also prevent your Crocs from ending up in landfills. Note, Crocs can also be recycled… Check out this article: Are Crocs Bad for the environment?
What Are the Most Common Methods to Dye Shoes? 
There's a variety of methods to dye shoes (like Crocs). The most common method is to use fabric dye. While this may level up a pair of canvas shoes or other shoes, using fabric dye on Crocs won't work. 
Here is a YouTube video showing someone who painted his Crocs with Acrylic Paint, at the end of the video you can see how the paint wore over time!
The dye will not stick well to the closed-resin foam material that Crocs are made of. This material is believed to be EVA (Ethylene-Vinyl Acetate) which is a compound that doesn't readily accept dyes.
Another alternative to fabric dye could be spray paint. However, like the fabric dye, spray paint can help customize your Crocs but may not adhere to your Crocs over the long haul.
It's fine if you want to give it a try, but from what I've heard, the paint will eventually peel and your Crocs won't look that best.
What's the best and the most practical choice? Hydro-Dipping!
Hydro-dripping can be the answer to modifying the color of your Crocs. Compared to fabric dye and spray paint, hydro-dripping can keep your shoes vibrant all year long.
However, Hydro-Dipping will require some preparation! If you are a beginner, you may want to try it on something else before you test it on your Crocs!  In fact, you should do that!
You can purchase a hydro-dipping kit from Amazon! It's really inexpensive and you can use it on more items that you own, so you can modify lots of things once you have the kit! There are also some really cool hydro-dipping stencils you can purchase!
Watch this YouTube Video for a demonstration of how to prepare and Hydro-Dip Your Crocs!
This video shows a number of different shoes being hydro-dipped!
This video shows someone who hasn't done hydro-dipping before successfully dipping their Crocs.
Preparing Your Crocs 
Like any other paint job, we need to prepare the surface!  That's no exception for your Crocs, prepare your Crocs by cleaning them before you start the process
If we're using hydro-dripping or any other method, it is important to prepare the Crocs.
For Crocs, you want to wash them with soap and water. You can also use a magic eraser to clean off difficult stains.  Another option is to use acetone (nail polish remover) to clean off some of the more difficult stains from your Crocs. If you use the magic eraser, wash again with soap and water after!
Then, cover any area that you don't want covered "dyed" by taping off all those areas. Some people leave the soles unpainted, while others cover up the heel. Any masking tape brand will do.
What Colors of Crocs to Dye? 
Of course, you can dye your Crocs whatever their colors. But if you haven't done hydro-dripping before, using a pair of white Crocs is a perfect idea. Here are a few of the benefits of dying white Crocs: 
--Get the process done like a pro. You will enjoy better results than expected. 
--Leave all areas painted. Have you ever dyed other colors of Crocs before instead of white? How's it? Were you able to achieve the outcome you prefer? If not, try white Crocs instead. 
--The colors will pop out more. Your Crocs would be as bright and attractive as possible. 
--The white foam rubber provides a neutral background. Whatever your chosen design, the white foam rubber ensures a neutral and stunning background. 
--It is easier to dye. Generally, hydro-dripping is tricky. But using a white-colored croc makes the process more convenient and less stressful. Even if you haven't experienced hydro-dripping Crocs before, your first try would be not as tricky as some of your friends say.
--It is fast. Hydro-dripping Crocs can be done in under 30 minutes!
Prepping the Paint
After you remove the dust and tape the soles in your Crocs, your job does not stop there. It's time to prep the paint. 
Before anything else, find an empty plastic bin. Make sure it can accommodate the size of your Crocs. Then, fill it with enough lukewarm water. But don't fill the bin fully. Allow some extra space on top of the bin so that you can submerge the Crocs without any trouble. 
Next, apply a generous amount of your trusted spray paint to the surface of the water. While it is enticing to use the cheapest brands in today's market, take advantage of latex or standard acrylic spray paint. 
If you find paint fumes bothering, you can wear a respirator, dust mask, and other useful protective gears. Instead of a single color to dye your footwear, try to use multiple cans of paint to achieve a unique, special, and stunning pattern. 
How Much Paint do You Need to Use? 
The trick here is to spray your paint into the entire surface of the water for a minimum of 30 seconds. But sometimes this won't work. You can do it for a minute or two. It depends. It is vital to apply more paint. 
Hydro-Dripping Your Crocs
Hydro-dripping your Crocs is the most exciting part of the process. But how to get started? Follow the simple steps below: 
Lower the croc into water. Wear gloves when you submerge your first croc into the water. You can also use other safety gear if available.
Do the same process with the other shoe. Yes, it is a bit time-consuming. But it will be worth it at the end of the day. 
Let your Crocs dry. Drying Crocs does not last for hours. It is quick and convenient. To avoid hydro-dripping, let it dry for a maximum of 24 hours. 
Spray your Crocs with the right acrylic fixative. To protect the paint from fading, it is advisable to use a clear acrylic fixative. It can also avoid chipping. But how much does an acrylic fixative cost? Well, it is relatively priced, so there's nothing to worry about. It is also available in most supermarkets.
Now that you're aware of how to hydro-dip Crocs, what are you waiting for? Prep your old pairs today. Reuse them instead of throwing them in landfills.
Related Articles