Crocs are popular footwear because they are comfortable to use. They are lightweight, antibacterial, comfortable, and can be used for many different occasions. Now that you are using your Crocs more, you might ask yourself: Can Crocs be repaired?
Crocs can be repaired if something happens. You can replace or fix a strap and you can even resole your Crocs.  Depending on the situation there are a few options for you to repair your Crocs.
Crocs are very versatile and if you wear your Crocs more often then sometimes accidents happen, and you might need to repair them.
I thought we should take some time here to review some options to discuss some repairs that you can do with your Crocs.  If you want details about re-soling your Crocs, then read this article: Can Crocs be resoled?
Before you do anything to your Crocs, I'd recommend that you clean them with soap and water. If they are very dirty and stained, then you can use the magic eraser or a very weak bleach solution to scrub off the stains. Here is an article that talks about that: Can Crocs be washed?
OK, let's get to it.
Crocs Wear and Tear Like Other Types of Shoes
Like other well-established brands of shoes in today's market, Crocs wear and tear, especially with heavy or long-term use.
A newly purchased pair is of good quality and stunning. But after some time, their color starts to fade. The soles get thinner than before. 
To rejuvenate the color of your Crocs, you could consider dying them… Read more here: Can Crocs be dyed?
Is it Possible to Repair Crocs? 
As mentioned above, Crocs can be repaired.
While fixing your pairs can be tricky, it may be a fun project for DIYers out there. Why should you repair your Crocs? What are the materials needed? How to fix Crocs? This guide got you covered. 
What Are The Materials Needed?
Well, it depends. If you lost your rivets or the piece of plastic that connects the strap, you need a glue spreader, a glue gun, a cutter, a sharpie, and a croc. Some of these materials may be available in your storage room.
But if you don't have a few of them, you can purchase them online. They are available at a competitive rate, so you don't need to feel afraid. 
How to Repair Crocs without Rivets? 
Once you prepare the necessary materials, you're now ready to fix your Crocs. Here are the following steps to bear in mind: 
Fit the Glue Spreader
Before you add a glue spreader to your cart, make sure it can fit both holes in your Crocs. If it doesn't fit, you don't have to purchase a glue spreader again. All you have to do is to sand it down.
Cut the Glue Spreader
Once the glue spreader gets thru the hole in both Crocs, mark where you will cut it. If you find this a bit tricky, ask help from one of your siblings or close friends for your convenience. 
When cutting the glue spreader, be sure it is a bit further than where it meets the edge of the inside of your pair. 
Make the Inside Circle
To make the inside circle, you need a glue gun as well as a glue stick. Then, plug it into your socket. After a minute or two, squeeze the glue gun out until its diameter is the same as the piece that holds the straps or Crocs. 
Making the inside circle, however, is complicated. If you're unable to achieve the right size, you may repeat the process over and over again. If you have a friend who has done it before, don't be ashamed to ask for help. 
If you want to take the challenge, there are specific and detailed video tutorials online that you can use. You also have to be patient. 
Put It Together
Melt the center of the circle using a hot glue gun and add some glue to it. Then, put the glue spreader thru the holes. Finally, glue it to the center of the circle. That's it. There's nothing special and complicated procedure to follow. 
Check out these Goth Crocs!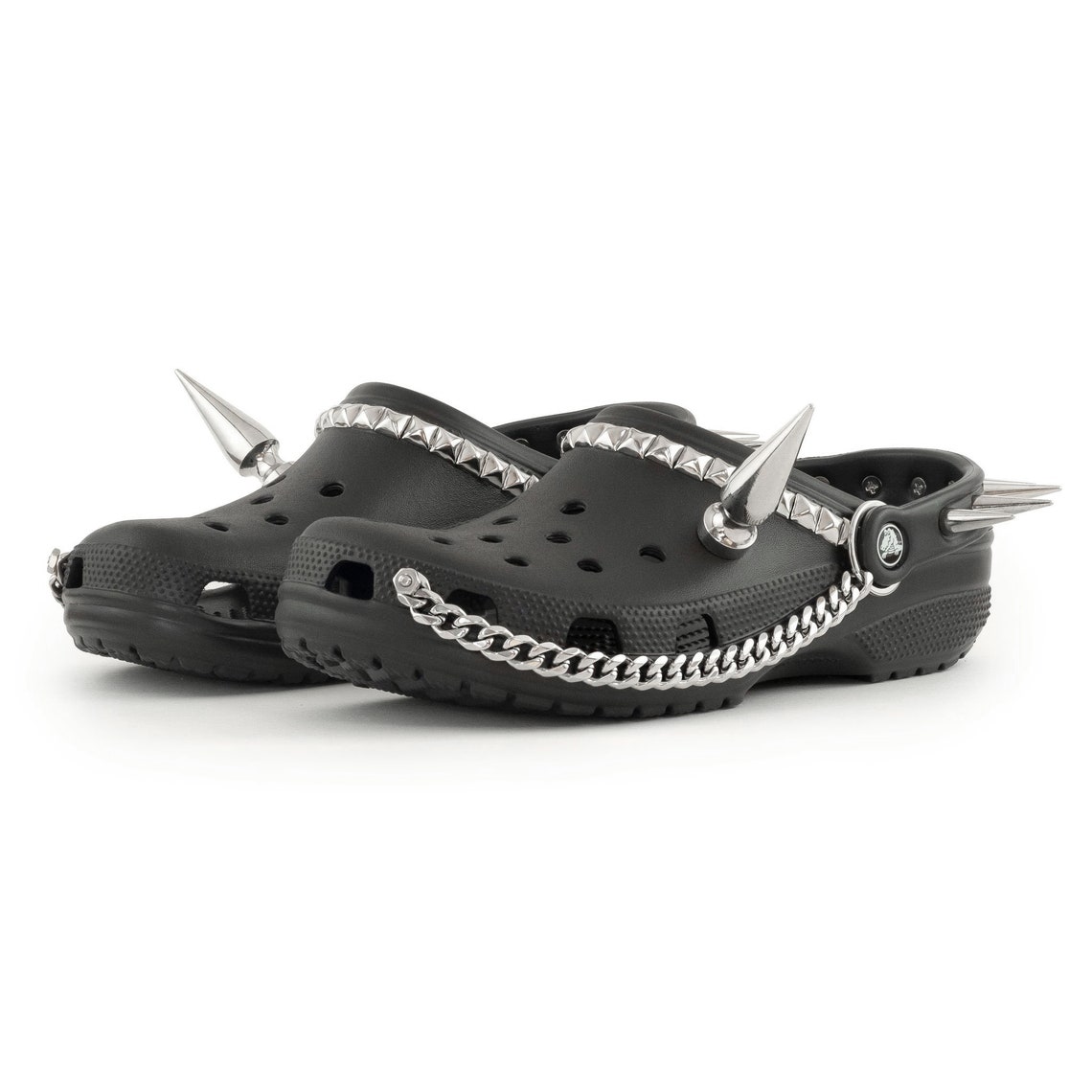 What to Do When the Rivets or Straps are Broken? 
Here is a video that demonstrates strap replacement:
There are a couple of ways to get a new strap for your Crocs.  I haven't found any on Amazon, but Etsy has some really cool leather straps (Click here, or the images below) or you can contact Crocs to ask for free replacement straps.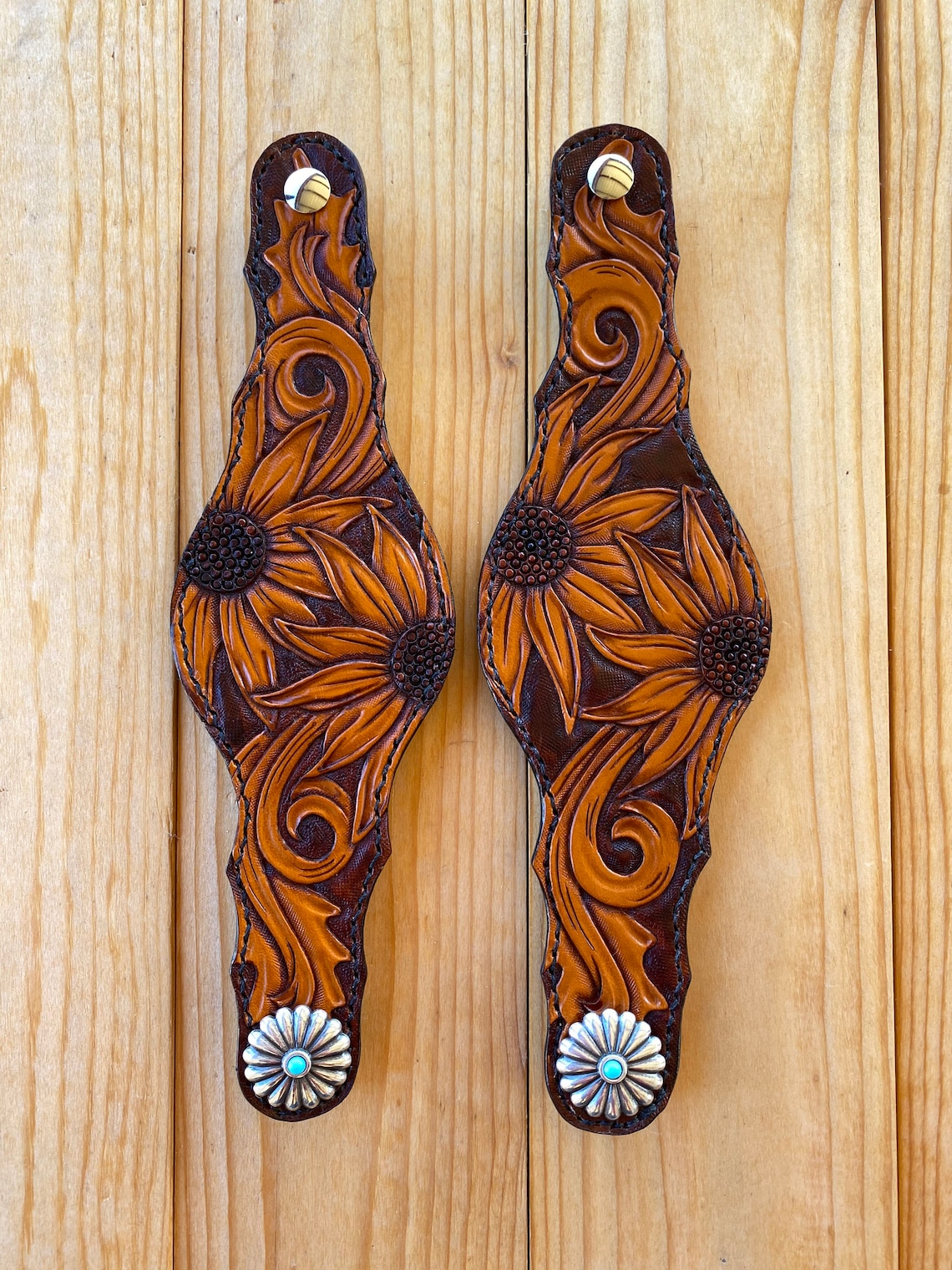 When Croc straps or rivets are broken, the Crocs company will replace them for you at no charge. To order free replacement straps or rivets, visit the official website of the company. Make sure to provide the necessary details.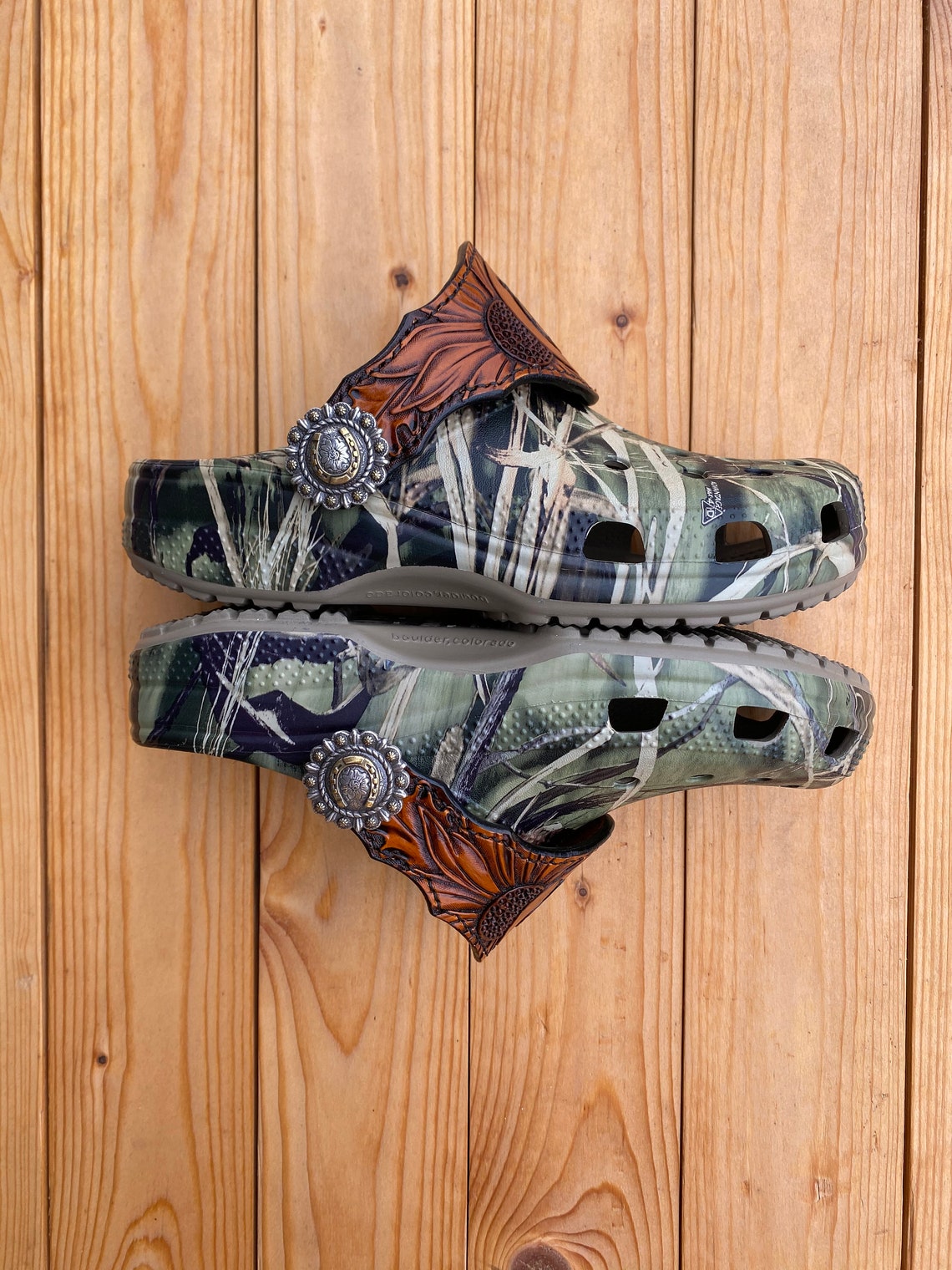 Usually, the requirements include your name, shoe size, shoe color, complete address, and email address.
Don't skip any of this information to avoid delays and other troubles. If you have given all your details, the straps and rivets will be delivered straight to your doorstep as quickly as possible. 
When you receive the items, replace the broken rivets with new ones. 
You can also find Crocs rivets on Amazon.  Here is a video demonstration for rivet replacement:
To replace the rivets, below are some of the tips to weigh in mind: 
Separate the Rivets into Two Parts
These are the inside and the outside part. The former usually have the Crocs logo, while the latter consists of a plain black head. 
Push the Inside Part thru the Rivet Hole
Be sure to push it thru the hole from the inside of your Crocs outward. After that, push it thru the hole in the strap. 
Attach the Crocs Logo
Attach it to the first rivet to secure the strap correctly. Do the same thing to the other. 
Tips When Repairing Crocs
Prepare all the Materials
Before you repair your old or damaged Crocs, prepare the necessary materials. Visit the nearest store to buy a glue gun, glue stick, and other essential items. 
Identify the Damage
Do your Crocs have damages in the strap or rivets? Determine the type of damage in your Crocs before anything else. If it cannot be repaired, buy a new pair instead. Then, turn the shoes into planters for sustainability. 
Ask Help from Someone with Prior Experience
If you haven't repaired Crocs before and feel afraid about fixing them today, don't worry because you will indeed have someone to rely on. 
Have Fun
Don't take any shortcuts when fixing your Crocs. Enjoy every moment to achieve a better result. 
Find Fun Charms & Chains for your Crocs on Etsy!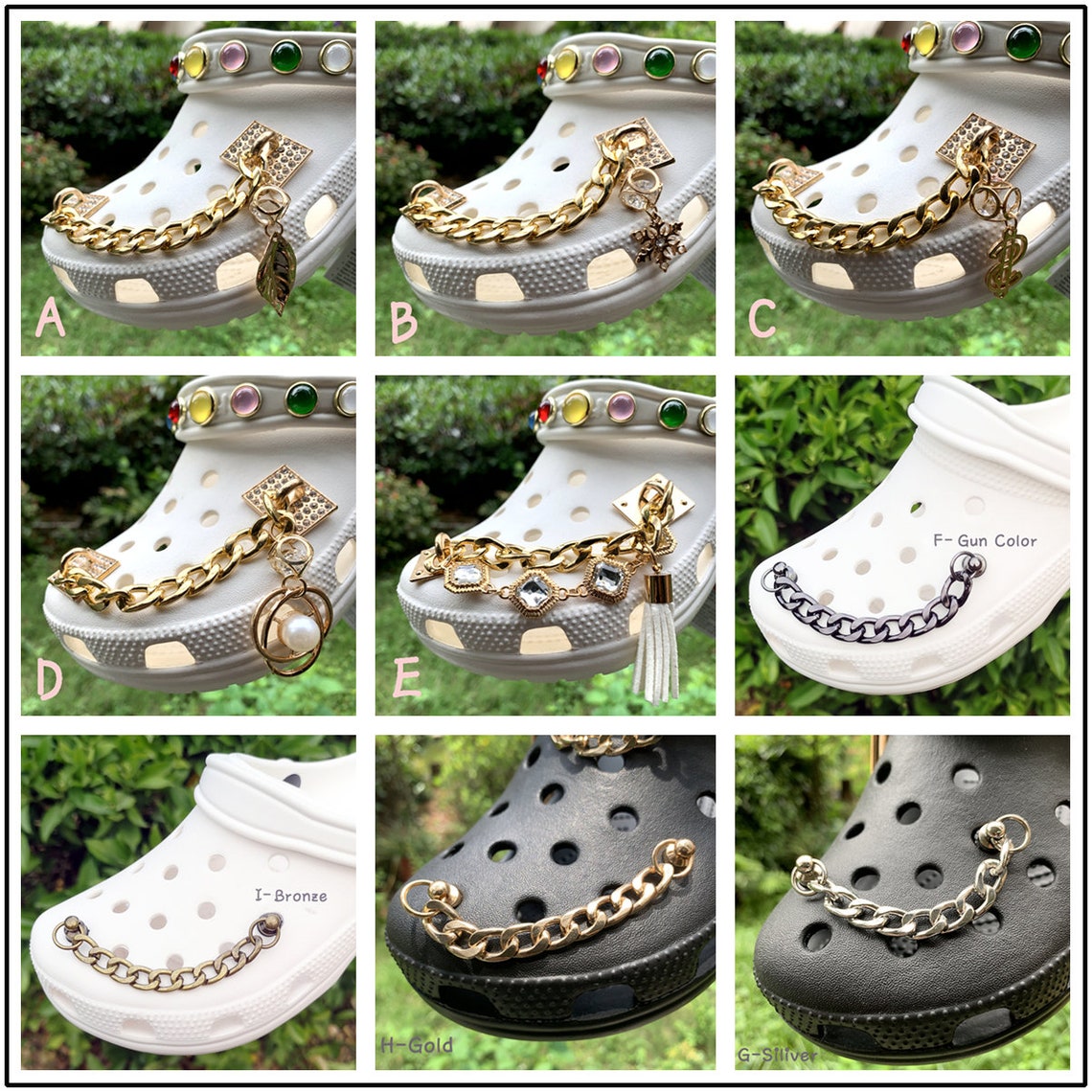 Why Repair Your Crocs? 
There are 3 reasons to repair your Crocs: Cut your costs, it's fun and you can save some space in your closet for another pair of shoes…
Cut costs
Crocs are cheap so that you can buy a new pair any time of the day. But for those who want to save some cash, repairing your old shoes is a good idea. 
It is Environmentally Friendly
Old shoes that end up in landfills have increased in the past few years. What are you going to do to reduce the number? Well, instead of throwing your Crocs away, it is ideal to have them repaired. 
It Is Exciting
Any DIY projects are fun. If you love doing some arts and crafts, fixing Crocs is something you would enjoy. You can also involve your kids for more enjoyment or excitement. 
Save Space in your Closet
Imagine you always buy new shoes, so you need another space in your closet. But if you fix your Crocs, you can save space while avoiding unnecessary expenses over time. 
Repair and Reuse
Instead of throwing your worn and torn Crocs to landfills, get them repaired. You do not only help alleviate waste pollution, but you also acquire bigger savings in the long run. 
We also wrote an article about where to recycle your Crocs, read: Are Crocs bad for the environment?
Related Articles