Fuzzy Crocs, I love them.  I've owned different pairs of Crocs over the years and when I found out that Crocs was making a pair that had a nice furry interior.  I just had to try them.  These Crocs are made with the same classic outer foam that my old Crocs are made from but the inside has a soft and furry lining.
So, are fuzzy Crocs worth it?
Fuzzy Crocs are worth it. They cost the same as the classic iconic Crocs and are perfect for those colder days or evenings when you want to wear Crocs, but need a little extra warmth. They are also great for indoor wear.
If you haven't been following Crocs over the years, you may not realize all the different styles of shoes that the Crocs company now offers. From the classic Crocs to fuzzy Crocs (they call them "Lined Crocs") to sneakers, sliders, flip flops, rain boots, and winter boots.  There are so many choices.
Recently Fuzzy Crocs (check Amazon for current pricing) have become extremely popular.  They are becoming one of Crocs brands biggest seller
Let's take a look at why these fuzzy Crocs are becoming so popular and why they are worth every penny!
What Makes Fuzzy Crocs Different?
Fuzzy Crocs don't mean they have grown fur on the outside. Usually, what you get is a cross between a slipper and a Croc. The outer shell has a rubber structure as well as a clog shape.
It is also integrated with the same holes located on the top for extra breathability and a similar low heel. What makes it apart is the additional fleece lining. This gives your feet additional comfort and warmth.
Why You Should I Consider Fuzzy Crocs?
Crocs are available in various styles and designs. But, one of the latest and most popular styles is the fuzzy Crocs. There are many good reasons why you should consider this one. Some of these reasons take account of the following:
Amazing Design
There are other important aspects of why fuzzy Crocs are a good investment. It has a pivoting strap, and the outer part is easy to clean. Cleanliness is also a vital factor.
The exterior rubber is easy to clean once you spill anything or get mud. The integrated pivoting strap is very useful as it offers additional security for the shoes on your feet once outside but then swings out of the way once not required. This makes that a suitable slip-on approach for at home.
Very Lightweight
Aside from being durable and tough, Fuzzy Crocs is also very lightweight. In fact, it is the lightest shoe available on the market at this point. Crocs shoe weight almost nothing. It is like walking on a light, stiff and rigid sponge. This one is for you if you want to eliminate the pressure of using heavy shoes.
Durable and Tough
Durability is one of the main reasons why fuzzy Crocs are worth it. It lasts for many years of use, even if you use it on a daily basis. This is made of high-quality materials, so we are assured that it will last for many months of use.
On the other hand, it is advisable to follow proper maintenance to extend your shoes' lifespan.
Easy to Clean and Maintain
This shoe is made of high-quality materials. You can hand wash or spot clean this with cold water and mild soap and utilize your washer's gentle cycle.
This is considered the easiest and fastest way of cleaning your Crocs and at the same time sustains its amazing appearance.
No Bad Smell
It is far different from other types of shoes available out there. Fuzzy Crocs don't make your feet smelly, and you can wear them even on the hottest days with no pressure and issue.
One thing is for sure; it may get a little bit sweaty; however, your handy dandy Cross will never produce an annoying smell. Mud, snow, and rain? You don't have to worry as it is safe to use these Crocs.
Read more about how to wash Crocs here: Can Crocs be washed?
Easy to Remove Fuzz Lining
There are two styles of lined Crocs, the Blitzen III which has an easily removable fur lining, making these very easy to wash in your washing machine. All you need to hold your thump on the rivet's exterior while slowly pulling the liner away from it.
Do the same on the other side of the shoe, and then pull the liner. Hands wash the fur lining with mild soap and cold or lukewarm water. Avoid using hot water and then let it dry.
The second style of fuzzy Crocs is called the Classic Lined Clog, the lining of these Crocs are sewn into the shoe. These must be washed with soap and water and then air-dried.
Fu​zzy Crocs Are Able Help with Pain Issues
Is it true that fuzzy Crocs can help people with pain problems? Well, even if the liner of the furry Crocs is not the most practical with regards to maintenance and longevity, there are lots of wearers that love the comfort and support it offers.  In fact, there are recommendations that the fuzzy
Crocs have assisted with backache, osteoarthritis, and other health issues. A lot of this is due to the sole and support the croc offers. However, there are sure to be some extra advantages, although it is partly psychological in having that soft fleece lining as a bonus feature.
Here's a great video that talks about Crocs, what they are made from, and the benefits of this material for people wearing these unique shoes!
Also, there is the potential that the fuzzy Crocs can be a good choice for people who undergo foot surgery. People that struggle with mobility will love a simple show which is easy to wear and take off. The fur lining adds luxurious feels, which wearers deserver after being in the hospital.
Fuzzy Crocs for Both Ages
Fuzzy Crocs are available for both ages. You can buy fuzzy Crocs for your kids. These are made with warmth and function in mind. The soft and lined Crocs for kids are great as a slipper but also ideal when playing in the snow.
The fuzzy Crocs (check Amazon for current price) for kids provide a roomy and generous fit, which is certain to match every foot. The fuzzy Crocs for kids can be customized with Jibbitz charms to mirror their own flair.
How to Make Fuzzy Crocs shoe fuzzy again?
It is easy to make Fuzzy Crocs shoes fuzzy once more. All you have to do is fill a bucket with cold water and then put the shoe in soapy water and then rinse it well using clean water. Pour baking Soda inside of every Croc, so the base is totally covered.
Where can I find fuzzy Crocs?
You can certainly find fuzzy Crocs at your local Crocs seller, or you can click the links below to see current pricing and what's available on Amazon:
Crocs Classic Tie Dye Lined Clogs
Crocs Classic Leopard Print Lined Clog
Crocs Realtree Print Lined Clog
Crocs Buffalo Plaid Lined Clog
Luke Combs Classic Lined Crocs
One thing to note when you are buying fuzzy Crocs. I find that the size is a little tight. Personally, I wear a size 9 and for fuzzy Crocs, I found that size 10 was more comfortable.  My son wears a US size 8.5 shoe and he was OK with his fuzzy Crocs in a size 9. 
If you purchase and it's not the right size, then the exchange policy for Crocs is very good.  If you purchase from Amazon, again the return/exchange policy is very good.  Don't wear your Crocs outside and return them with little hassle.
How to maintain the quality of my Fuzzy Crocs?
In keeping your fuzzy Crocs in tip-top condition, don't leave them to any place for possible sun or heat exposure.
These include hot cars or dishwashers since this can lead to the warping and shrinking of the shoes.
Everyone loves Crocs, check out these fancy Crocs. This nurse gets so many great compliments about her bedazzled Crocs... (click the image to view the options on Etsy)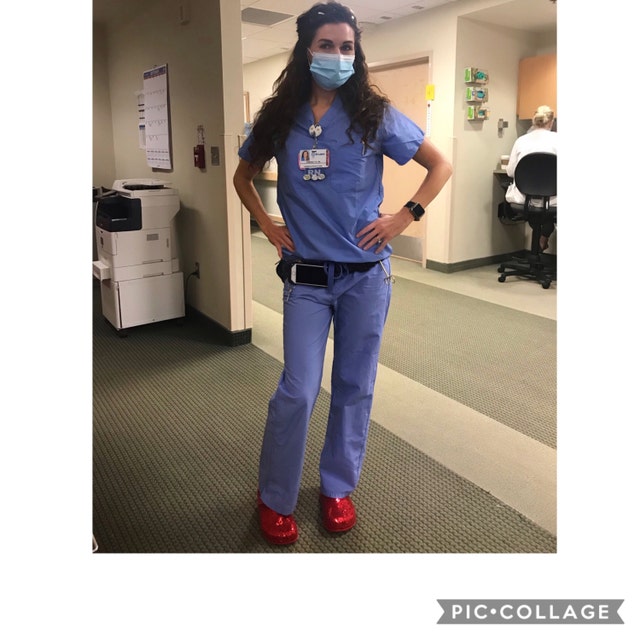 Fuzzy Crocs Related Articles